The DFSC Welcomes You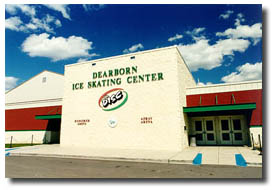 Welcome to the home of the Dearborn Figure Skating Club. Based out of the Dearborn Ice Skating Center in Dearborn, Michigan and recognized by US Figure Skating, the DFSC is dedicated to furthering the sport of figure skating by providing opportunities for all levels of skater--from beginner to advanced, and from recreational to international competitor. For more information on the club and our programs, please visit the links above.
GET INVOLVED
Are you interested in getting more involved with the Dearborn Figure Skating Club? There are many opportunities available to our membership...don't miss out!! Click the link below for more information.
Click Here to: GET INVOLVED!!
Theater on Ice



June 26 - 28, 2014
The Dearborn Figure Skating Club
will host the


7th Annual National Theater on Ice Competition



* * * Design the logo for a chance to win a $100 Bank Gift Card * * *
Click Here For the Flyer and More Information!!


Hotel Information
Announcements
Kalamazoo Classic results have been posted -- see Results tab
Available Photo Galleries
2012 Holiday Exhibition
Crystallette Team Gallery:
Small Group and Individual Skater Gallery:
Latest News
The Crystallettes Bring Home the Gold